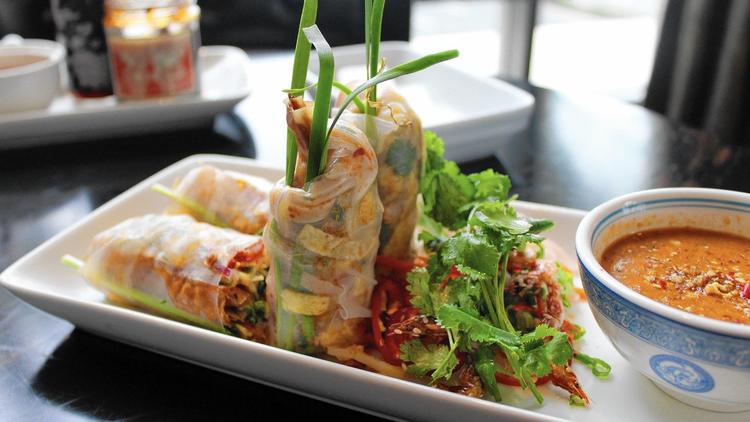 Daily Pilot - Bennett: These are O.C.'s 10 most important new restaurants of 2016
ining in Orange County, too long considered the forgotten stepchild of L.A., has long run along two extremes: waterfront options that cost as much as a second mortgage and hidden strip mall gems where you can inhale an extra stomach's worth of ethnic food on a budget.
Though that has been slowly changing, this year marks a significant shift away from both with some of the best new restaurants championing under-represented cuisines, bringing high-end back down to the masses and remixing proven concepts to create something uniquely Orange County.
In no particular order, here's a brief run down of the 10 most important new restaurant openings of 2016.
El Mercado, Santa Ana
Formerly known as the French Mexican chef for his love of using Mexican ingredients with fine-dining flair, Danny Godinez finally uses his skills to dig deep into authentically representing his home country. At Mercado, the Acapulco native presents a tour of Mexico through a menu of 31 dishes, each — like the huitlacoche quesadilla, carnitas and mole — labeled according to its state of origin.
SeaSalt Woodfire Grill, Huntington Beach
There's barbecue and then there's Santa Maria barbecue, the only grilling style native to California and the only one that involves cooking the meat with the fickle wood from red oak trees over a proprietary fire pit. Minimally seasoned and with sides that are more reminiscent of a campfire cookout than a Southern backyard party, O.C.'s only outpost for this unique local tradition is made to convert even the pickiest of barbecue fanatics.
LSXO, Huntington Beach
L.A. chef Tin Vuong and his ever-ambitious Blackhouse Hospitality Group landed in Orange County this year with a California coastal restaurant at Pacific City, a development project in Huntington Beach. But hidden within the place, called Bluegold, is something even better, a reimagined version of Vuong's signature Manhattan Beach and downtown L.A. concept, Little Sister, a place where a soundtrack of raunchy hip-hop pairs with traditional Vietnamese dishes and a killer ocean view.
Wok N Tandoor, Orange
Indo-Chinese food is common in India but less common here; even when restaurants serve it, it's buried deep in its own section of the menu. At Orange's new Wok N Tandoor — an express offshoot of the fine-dining restaurant of the same name in Artesia's Little India — Indo-Chinese favorites like Szechuan fries are sold via counter service, along with masala pizzas, desserts from Rasraj and the best selection of chaat in O.C.
Anchor Hitch, Mission Viejo
Only chef Michael Pham could make seafood towers so pristine and dishes with ocean creatures so artfully plated that it draws diners to a restaurant inside of a dying multistory mall. Bred in the kitchen at L.A.'s Providence, Pham comes to O.C. with an unparalleled ability to make fancy shellfish platters, bowls of uni pasta and Cajun-seared albacore approachable for the everyday shopper.
The Wharf, Garden Grove
Just when you thought that every Cajun crawfish restaurant in Little Saigon was the same, along comes The Wharf to serve up cocktails, Vietnamese small plates and even a full seafood hot pot setup along with your by-the-pound slurry of shrimp and mussels in an overpowering spicy, garlicky sauce. A hip seafood-obsessed gastropub, brought to you by the same owners of Wild Crab, just might be the boost downtown Garden Grove needs.
Irenia, Santa Ana
Chef Ryan Garlitos cut his teeth at Taco Maria but now serves contemporary spins on his grandmother's cooking in the heart of downtown Santa Ana, introducing O.C. to the majesty and diversity of Filipino food from a decidedly modern perch. What started as an occasional supper club honoring the cuisine — which fuses Asian, Spanish and native flavors — is now a full-service restaurant that serves Garlitos' interpretations of pancit (Santa Barbara prawns), adobo (like a mole) and sinigang (with bone broth).
Gratitude, Newport Beach
A gold-plated, fine-dining vegan restaurant definitely sounds like something that would only succeed in L.A., but the team at Café Gratitude — you know, the place that makes you order affirmations ("I am fulfilled") instead of dishes — dropped their first Gratitude concept right here in O.C. With a menu of new vegan creations (and new affirmations) and cocktails by Jason Eisner (some featuring fresh squeezed juice), it's an upscale, plant-based wonderland even meat eaters will appreciate.
Sichuan Impression, Tustin
Numb your face and sweat it out at the second location of the San Gabriel Valley icon, which presents seafood and more smothered in the ma la (spicy and numbing) power of the Sichuan peppercorn, the staple ingredient of this regional Chinese cuisine. The Alhambra original was a must for anyone looking to go deeper than the kung pao chicken and chow mein of Americanized Chinese dreams; you can skip that drive now that the adventure has landed in O.C.
Naugles on the Beach, Huntington Beach
Thanks to a local food blogger, the nostalgic fast-food brand Naugles is back — and this summer it came out of the office-park-test-kitchen shell it's been hiding under since 2015 and opened in a boardwalk burger shack on Huntington's beach. The experiment was short-lived and will hopefully return next summer, but we loved that even for a few short months, bun tacos and Naugles burritos were finally available daily to the masses.
---
SARAH BENNETT is a freelance journalist covering food, drink, music, culture and more. She is the former food editor at L.A. Weekly and a founding editor of Beer Paper L.A. Follow her on Twitter @thesarahbennett.
http://www.latimes.com/socal/daily-pilot/entertainment/tn-wknd-et-1225-sarah-bennett-20161224-story.html